Note: Pictures credited to the Israeli Ministry of Tourism (www.goisrael.com)
Here We Go
Going to Israel was not an easy task for me. I never took any vacations without my family—especially my children. Hence, going away with just my husband was a new experience. 
The last time I traveled alone was right before my marriage. After that, all the vacations and all traveling were tailored to the needs of the family, particularly the children. In a way, this trip to Israel was another reminder that the life I had before did not exist anymore.
It also was a terribly painful reminder about crushed plans and dreams. Just a few months before everything took place, our children were also talking about taking a trip to Israel. Together. Two of them. In the summer. I was helping them to arrange it. And now, here I was—packing. Not my children. But me!
Also, the trip itself was not normal per se. Nothing was preplanned, organized, or scheduled. Total and complete ambiguity. The trip was based on our sheer trust in Divine Providence and on its invitation to come. I trusted the guidance from my son as well. I had nothing left to fear. The worse already happened.
The only thing I did is to book the hotel in Jerusalem for the first few days. In the old city. So we could have a place to sleep at least for the first few days. That is about it. Neither of us, my husband or I, even knew what to plan or how to organize it being in the situation that we were in. It was not a vacation.
Therefore, exactly four months later since our son shifted, on August 18, I closed the door of our now-empty house and stepped into the unknown. I wore my son's baseball hat along with his backpack and headed to the airport. Between my husband and me, we only had one middle-size duffel bag.  
Arrived 
The flight was long, but fine. We had to stop in Atlanta. From there our next stop was Tel Aviv. We arrived very late in the evening and took the shuttle that was going to Jerusalem. The shuttle was full, and we had to make a number of stops.
During our long ride to our hotel, the driver told us in broken English that the center of Jerusalem was under construction. Meaning, he could not take us directly to the hotel. In a few words that we were able to understand and that he loudly repeated to us . . . it was impossible for the shuttle to take us to our hotel. 
So the shuttle dropped us and a few other people in the city without all of us knowing where to go or where we were. It was almost midnight and very dark. All of us stood there for a while, speaking with one another and trying to grasp the situation. None of us knew what to do next, except just start walking. Somewhere.
There was a young woman in her early twenties from Los Angeles who came as a part of a Christian youth group to study in Israel. She was scared, confused, and lost. The person who was supposed to meet her did not show up in Tel Aviv, and now he was not answering his phone.
Fortunately, she knew the address of her dormitory. My husband and I felt compelled to help her find her dormitory first and then go to our hotel. That way, in the worst case, she could spend a night with us in the hotel. We could not bear to let her be on her own.
It took the three of us about two hours of wandering in our search for her place. Thank G-d we had only one quite small and so comfortably rolling luggage. She had a few large bags. No wheels.
Though it was after midnight, the streets were full of people, very vibrant and busy. Lots and lots of youth. Including some children (teens). In groups. Alone. Without parents. Eating. Talking. Laughing.
So we kept looking for people who knew English and asking them to help us with the directions. How many times did we ask? I even do not remember. However, we were able to finally find her place, in a very old building in a quiet street. It was so dark that I don't think that during the day I would be able to recognize it. We helped her to get in, with luggage and all. No elevator. My poor husband.
After that we were free to start to search for our hotel.
Once again, we were stopping and asking for directions multiple times, and we noticed that for some reasons no one knew the name of our hotel. So we used the name of the street, and we finally found our hotel. It was almost 3:00 a.m.
And yes, indeed, the streets were a mess, and our hotel was also under construction. That explained why I was able to book a hotel room in the middle of August without any challenges for an excellent price. The hotel had just been renovated and was not fully open for business yet. I found it very interesting that at the midst of our crumbling life, the city and hotel ended up being under construction too.
Our Hotel
The did not take that long. When we were asked for how long we were planning on staying, my answer was "Not sure." They were fine with my response. Everything was pleasant and calm. We were reminded not to miss our breakfast time just as we were walking away.
The positive side of staying in this hotel, regardless of construction work that was still going on, was that everything was brand new: rooms, new pillows, towels, etc. Everything!
The room looked modern and smelled fresh and clean. The bed was incredibly soft and felt wonderful. The pillows were better than those in my home.:) Soft and puffy. Just as white clouds.
After the long day, I crashed in bed, and it felt like heaven. I slept through the night (whatever was left of it) without any dreams, visions, or communication with my son. When I woke up, it was about 6:00 a.m. Must be change of time. I could not sleep any longer.
I opened a window, and the sound of a yet sleeping city entered the room. Right then, I knew I had to go to the Kotel or the Western Wall. But before that, we went to our breakfast.
The breakfast area looked very cozy and warm and inviting. Soon we learned that they baked their own bread. The chef was a Jewish immigrant woman from Yemen.
Her food was so deliciously made that I had to meet her. Her warm and open personality made our conversation joyful and informative. She shared with us that the bread was made based on one of her old family recipes. It was absolutely delicious and comforting. Though the food at the hotel was simple, it was very fresh and exquisite. Different menu every day. 
The bread became our staple food during our journey, which is not something that I usually eat. Free gluten and all. I had no issues with it there.
 The Western Wall (Kotel)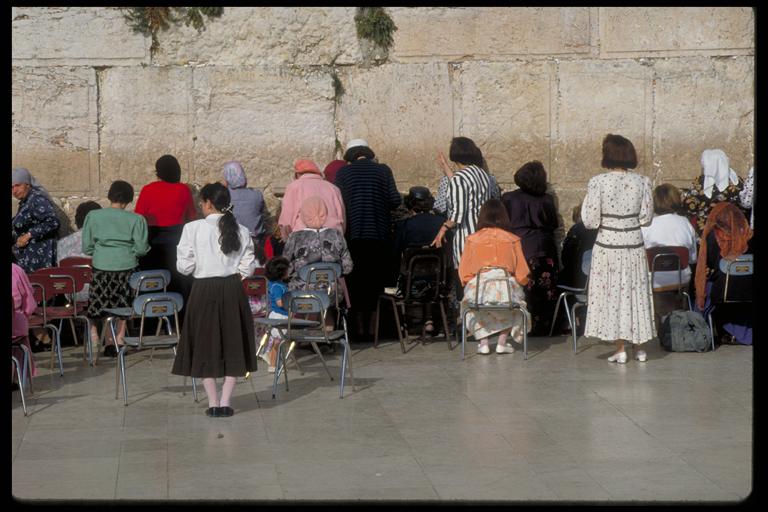 The Western Wall is hidden in the southeast corner of the old city. It was about a forty-five-minute walk from the hotel to the Kotel. Another huge benefit of staying in that hotel. Location! Location! Location! Now we were in the center of everything.
For the next five days (that's how long we ended up staying), we went to the Western Wall every morning and stayed there for the majority of the day. That became the focus of our days in Jerusalem.
I am not sure what I was expecting when I first approached the Wall. I knew that the Kotel was the most significant piece/place in Jewish history and was considered a holy place. 
However, I did not know what I was expecting for me. What I was hoping to feel or hear. So I did not. No expectation whatsoever. None. I decided to just be in the moment and see what it will bring to me.
I entered the women's section and approached the Wall. I was surrounded by women and girls of all ages crying, praying, and writing notes and putting them in the cracks between the stones. I did not write anything. I just stood there quietly and then silently said something like this: "Here I am, you asked me to come. Here I am."
The tears were rolling down my face. Silence. I touched the Wall with my hand and silently said something like this:
"Here I am," I said, "you asked me to come. You took my son away. You ripped my heart away. So here I am. Tell me, why did you ask me to come? Tell me, why did you take my son? Tell me what you want from me. I am here, tell me."
Besides the weeping of the women, I did not hear anything else. Yet I stood there and stood there and stood there trying to listen to the energy around me. Nothing, as if I just was talking to the wall (cliché). 
I could hear the tears falling from the woman next to me. I could hear a very quiet mumbling noise from the woman behind me. I could hear the prayers from men from the men's section. I could hear the noises of the life outside of me, but I heard absolutely nothing inside of me.
For the next week, day after day my husband and I went to the Western Wall spending hours there. Yet still, I felt absolutely nothing. I asked, questioned, talked, yet there was only silence. Emptiness. Void.
I cried, cried, and cried. I wept, wept, and wept. There was no vision, voice, or anything to answer to me, guide me, or nurture me. Yet I came back day after day after day. I was waiting for something. At least to hear from my son . . . If there was no one who would talk to me . . . was there anyone who listened?
At Home
One day after coming back from our now-regular visit to the Kotel, I took a nap around four or five o'clock. I was bone tired. It was hot that day and another day of silence. After taking a shower, I just crashed. 
During my nap, I suddenly felt like I could not breathe. My chest tightened up. Thinking it would pass, I did not wake up my husband. He too was drained by the heat of the day and our long walks.
Then the symptoms got worse. I felt like I was about to pass out. Hardly breathing, I woke my husband and told him to call the ambulance.
Because of the construction, the ambulance had a hard time reaching the hotel. By the time they reached me, I was almost unconscious. The next thing I remember is being placed inside the ambulance with a mask over my face.
I felt someone was holding my hand. I could not open my eyes, but I knew it was my son.
"Mom," he said, "you will be fine."
The presence of my son was so strong, physical, and real that if I had not known he had shifted, I would have been sure it was him sitting next to me. But it still was him!
He touched my hair; he placed one hand on my hand and another on my chest. And he said, "Remember I am your healer? Don't worry, I am here."
When I used to have headaches, I always asked him to place his hands on my head. Usually within a few minutes the pain was gone. That is where I started to call him "my healer."
I felt the sensation of his energy on my chest, and with that, I started to feel like I could breathe again. When they brought me to the hospital and began to run some tests, I was already fine.
I don't know what had happened. I thought it was an asthma attack triggered by the construction outside and in the hotel or something else. Whatever it was, it was gone.
Still I was kept under observation for a good several hours. When I finally was let go and we finished with the paperwork, I asked them, "How could I get back to the hotel?"
"Walk," they said. "Walk."
Then they explained to us that because of the construction, no taxi or no other car can get us. At least it was not very far.
It was late evening, and my husband and I began to walk back; I was still in my pajamas and slippers. There were no cars, and we were walking right in the middle of the street that was taking us down the hills. It was an easy walk.
Then a thought hit me, so I turned to my husband and said, "Look, we are walking in our pajamas in the middle of the Jerusalem . . . in the middle of the city . . . look where we are . . ."
We looked at each other and were both amazed at how completely comfortable and safe we felt as if we were in our own backyard. There was no feeling of "lost" or "foreign" or not "belong." Or being alone and far away from home. It was a natural blend of energies. So natural that it was difficult to notice and become aware of it.
You know, it was similar to the feeling of a healthy body. When we are healthy, we do not feel our body. We are not aware of our liver or heart or lungs. They are just doing their job without us noticing them.
We only become fully present and aware when we are in pain. When they are not well. Be that a finger or an ear. Does not matter. A healthy body is not asking for our attention. Same was here. No feelings of awareness. Just comfort.
Then we saw a few people here and there. Then a group that was singing. Still feeling of comfort did not leave me.
Maybe that's how it feels to be at home: to walk in the middle of the city in slippers and flip-flops and with messy hair and still feel just fine and totally in peace and comfortable with everything.
Whatever home is, I will never forget that walk with my husband in Jerusalem. When we returned to the hotel, I knew it was time to go to the next place. It was time to move on.